If you've ever been to the Masquerade Carnival in Takoradi, Ghana, you'd admit it's an experience of a lifetime.
Held annually, it brings together people from the region and outside of it to celebrate and showcase the rich cultural and traditional heritage of the Western Region of Ghana.
In recent years, the event has attracted outsiders, primarily Africans in the diaspora.
The Masquerade Carnival in Takoradi is usually colorful and vibrant, featuring various musical performances from across the country. One of the program's main highlights is the display of interesting costumes that fills the event with fun and humor.
The event is organized under the auspices of the Takoradi Cultural Centre and takes place in Takoradi city. It is an annual event that brings together people from all over the country to celebrate and showcase the rich culture and traditions of Ghana.
The two-day event also serves as a funfair for various Ghanaian foods and beverages for the teaming patrons. What starts the program is purely traditional – music, costumes, and dance. This is usually the pull factor for participants who love to experience the rich culture of the region.
Participants wear the best traditional costumes and perform with various traditional instruments including xylophones, drums, and balafons, among others. This creates an energetic atmosphere before the display of fireworks and lighting, much to the admiration of all.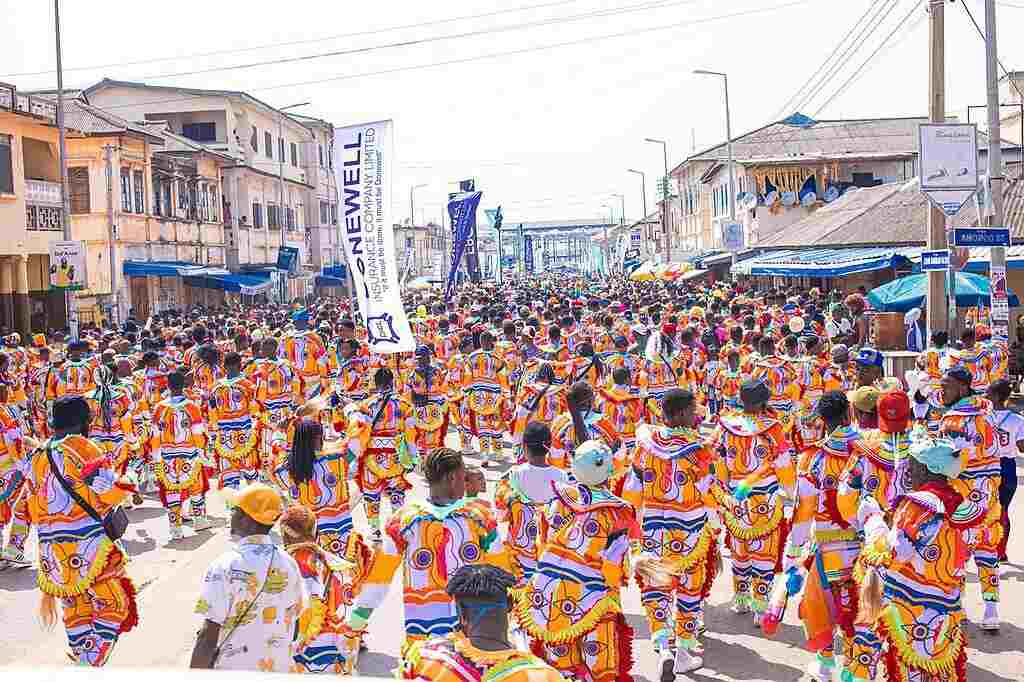 A massive float with tens of thousands of people takes part in a procession on the second day, accompanied by various accessories such as flowers, beads, and other materials, creating the perfect ambiance for the event. The costumes and decorative elements hold cultural significance for the people.
Also read: 15 Popular Foods in Ghana Everyone Must Try
The event helps the region in many other ways. For instance, business booms around the area especially for restaurants and hotels. In addition to that, it affords the local artists, dancers, and other performers a nice platform to prove their worth at a mass gathering.
If you're a tourist looking to visit Ghana, you might want to consider the Masquerade Carnival in Takoradi because it's got a lot more interesting things to offer. You get to see various forms of traditional games being played, including art exhibitions. Foreigners get to purchase these crafts, artifacts, and other souvenirs
In conclusion, the Masquerade Carnival in Takoradi is an event that entertains, educates, and promotes the rich culture of the people of the Western Region of Ghana and beyond. It has over the years been a go-to event for fun-seekers within and across the shores of the country. Take a trip there during this event on 26 December 2023 and you'll be thrilled without a doubt.