Need the best time to travel to Ghana? This post has exactly what you need. Sit back and have fun.
Ghana is a West African nation distinguished by a vibrant culture, hospitable citizens, and breathtaking scenery. Ghana has something to offer every traveler, whether they want to take in the vibrant city of Accra, unwind on the stunning beaches of Cape Coast, or delve into the country's fascinating history.
But picking the best time to travel to Ghana can be difficult. Your travel plans may also be influenced by the timing of big festivals and the country's distinct wet and dry seasons. We'll give you a thorough primer in this article to assist you in choosing the ideal time of year to visit Ghana.
Weather patterns in Ghana
There are obviously other considerations you always want to make. Whenever you're making travel arrangements to Ghana, it is imperative to consider the country's weather patterns. The tropical climate of Ghana has two distinct seasons: the wet season and the dry season. This should guide you choose the best time to travel to Ghana.
April through October would be the rainy season, usually with June, and July, as well as August, being the heaviest rainfall months. During this time, the humidity is high and the heat can reach as high as 32 °C (90 °F).
The dry season, on the other hand, will last from November through March. During this time, the climate is typically warm and dry, with temperatures between 25°C (77°F) as well as 32°C (90°F).
Best time to visit Ghana
The best time to travel to Ghana is during the dry season, between November and March. This is because the weather is generally pleasant, and the humidity levels are low, making it easier to explore the country's many attractions.
Additionally, many of the country's major festivals, such as the Akwasidae festival, the Homowo festival, and the Ghana Carnival, take place during this time, providing visitors with a unique cultural experience.
Festivals and events in Ghana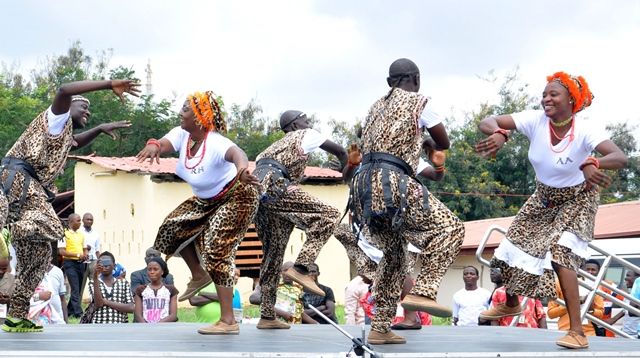 The best time to travel to Ghana will definitely factor in the various festivals and activities the country observes. Ghana is renowned for the colorful celebrations of its rich cultural heritage through its festivals and other events. The following are a few of the significant celebrations and occasions that happen in Ghana:
The Ashanti people celebrate the Akwasidae festival in memory of their forefathers as well as the Ashanti king. Usually, it happens in January, May, August, and December.
The Ga people celebrate the Homowo festival to mark the close of the harvest season. Usually, it occurs in the months of August and September.
The Chale Wote Street Art Festival is a celebration of creativity and street art that includes exhibitions, live performances, and workshops. Usually, it happens in August.
Pros and cons of traveling during the wet season
While the dry season is typically thought to be the best time to visit Ghana, there are benefits to having to travel during the wet season as well. The following are some benefits and drawbacks of visiting Ghana in the rainy season:
Fewer crowds: Since the wet season is considered the low season for tourism in Ghana, you can expect fewer crowds at major attractions and hotels.
Lower prices: Many hotels and tour operators offer discounted rates during the wet season to attract visitors.
Exciting places to visit
Generally, friendly people to meet
Great food to enjoy
Things to watch out for:
Heavy rainfall: The wet season in Ghana is characterized by heavy rains, which can make it challenging to explore the country's attractions.
Humidity: The humidity levels during the wet season are high. This can make it uncomfortable, especially for people not used to that kind of condition.
What to pack for a trip to Ghana
Now that you know the best time to travel to Ghana, you might want to know what to pack. To be sure that you will get a  pleasant and comfortable trip, it's crucial to pack the appropriate clothing and accessories when organizing a trip to Ghana. Consider bringing the following items with you:
Comfortable-to-walk shoes: You'll be walking a lot in Ghana, so be sure to bring footwear that can handle the terrain.
Pack sunscreen and mosquito repellent if you're going to Ghana because both are necessary for protection from the sun and pesky insects.
Clothing that is thin and breathable: Packing lightweight, breathable clothing like dress shirts, pants, and dresses is essential due to Ghana's hot, humid climate.
Camera: Don't forget to bring your camera because Ghana is a gorgeous country with amazing landscapes and cultural experiences.
Also read: Masquerade Carnival in Takoradi: Behind the Mask
FAQs about the best time to travel to Ghana
Is Ghana safe to travel to?
Yes, Ghana is regarded as a safe destination. However, it's crucial to take the necessary safety precautions, like avoiding nighttime solo walking and concealing valuables.
What currency is used in Ghana?
The currency used in Ghana is the Ghanaian cedi (GHS).
Can I drink tap water in Ghana?
To reduce any potential health risks, it is advised to only drink bottled water in Ghana.
Do I need a visa to travel to Ghana?
To enter Ghana, the majority of visitors will need a visa. Consult your neighborhood embassy for details on requirements.
Conclusion
If you've come this, we want to think you've gotten a thing or two to help your trip to Ghana a huge success. As you have seen, the dry season, which lasts from November to March, is the ideal time to visit Ghana.
However, traveling during the rainy season can also have benefits if you do not even mind the occasional downpour. Ghana is a place that every traveler should visit due to its rich cultural heritage, breathtaking landscapes, and friendly locals. Just be sure to plan ahead and take the necessary safety measures to make it a fun and safe experience after knowing the best time to travel to Ghana.